I am so excited! Today I am being featured by Amanda from
Teaching Maddeness
! If you are here from her blog, welcome! I hope you will become a follower! :)
(And if you are my follower and not hers, go check her out! LOVE her!!)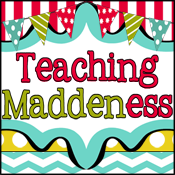 Today is one of those days I am SOOO happy to be a "buyer" on TPT. We have been talking about the differences between Primary and Secondary Sources in Reading and Social Studies. I found
this GREAT sort activity
by Andrea Robinson- it really got us thinking about which source each example referred to. The activity lends itself to some great discussion about their reasoning... and did I mention it saved me some much-needed time?? Not having felt the greatest this week, I haven't been going home creating (or thinking) like I usually do... I've been vegging out on the couch when I get home catching up on my DVR and sleeping!
Adventure to Fitness
? My kids have begged me every day since the first day we've done it to get on the site for recess. No more Heads Up, 7 Up! (and that was their favorite game!!)
Remember, the rafflecopter for my
100 Followers Sweet Giveaway
will end at 5 PM EST tomorrow! Make sure to go enter if you haven't already!! 10 awesome prizes will be given away tomorrow! :) I can hardly wait!!
Oh and.... Aimee at Pencils, Books, & Dirty Looks is having her 400 Follower Giveaway! I am lucky to be part of her giveaway- make sure to head over and enter in that one too! :) (just click on her ad below!)